Situated roughly 160km south of Sydney and an easy drive from Canberra is the centrepiece of the NSW South Coasts Shoalhaven scheme, Tallowa Dam. This concrete dam was completed in 1976 and is located immediately downstream from the junction of the Kangaroo and the Shoalhaven rivers. Tallowa Dam collects water from a 5,750 square kilometre water catchment that extends from Kangaroo Valley in the north-east to the upper Shoalhaven River south-west of Braidwood.

This water is stored in Lake Yarrunga, which is in itself is formed by Tallowa Dam. Lake Yarunga is the main water supply for the Shoalhaven and is one of Sydney's major regular drinking water supplies.

Kangaroo Valley is often used as a thoroughfare to a better place, a journey way to the South Coast areas of Nowra and the boutique locations of Berry and beyond. The Valley itself is one of rolling, lush green plains and tourism delights. Signs like 'Worlds best Pies' and 'Bush Retreat' scatter the road sides amongst headiness hideaways and thoughtful propositions. Tourism and tranquillity are what holds Barrengary and the valley commune together, it certainly seems to ooze that dreamy appeal but its what lurks well hidden beyond that makes this author drool.

Tallowa Dam holds the water back and allows variable flow into the Shoalhaven River, which starts well above the Dam wall itself. This Dam is stocked with Australian Bass, stocking records vary but 80,000 fingerlings were released there in late 2006 under a NSW government grant deal. It's also home to the endangered Grayling, Freshwater Catfish, numerous Gudgeon and Smelt and unfortunately an ever growing proportion of veracious European Carp. In 2009 a fishway lift was constructed at Tallowa Dam to allow for the upstream migration of fish into Lake Yarrunga and its upstream tributaries.







Angling Facilities:



It is a paddle only Dam and fishing, swimming and non-powered boating are encouraged at the Dam wall and Bendeela Camping and Picnic Area. Main water access is from parts of Kangaroo Valley, Bendeela camping grounds and the Tallowa Dam wall itself. Hiring Canoes from a local Outfitter is a popular past time, providing on water contact to the contained river runs en route to the Shoalhaven Gorge. Camping overnight in the gorge is also a popular pastime but be wary, main campsites are limited to areas at Fossickers Flat and further on at Canoe Flat.

The Sydney Catchment Authority controls access to many of the waterways that are governed by Lake Yuranga and to a lesser extent Tallowa Dam. To help control rural roundhouses the SCA have provided free camping facilities near their topical pumping station at Bendeela (Busy peaked seasons apply). Add to this the picnic and toilet amenities at Tallowa Dam wall itself and you have quite an array of facilities on hand.

As mentioned above the Dam is powerboat free, however the Canoe and Kayak launching facilities at the dam wall still incorporate a concrete boat ramp with a low slung bank. The official parking spaces at the wall fill quickly on weekends, parking may seem to be at a premium here but unofficial spots are located just a stones throw away. Visitors to the region should familiarise themselves with rules and regulations regarding camping and fishing in an SCA controlled environment.

It is also worth noting that yellow marker buoys situated near the actual wall indicate no boating beyond this point. Be careful paddling this section, it's very difficult to discern the top of the dam when its full to overflowing (Your horizon may seem endless).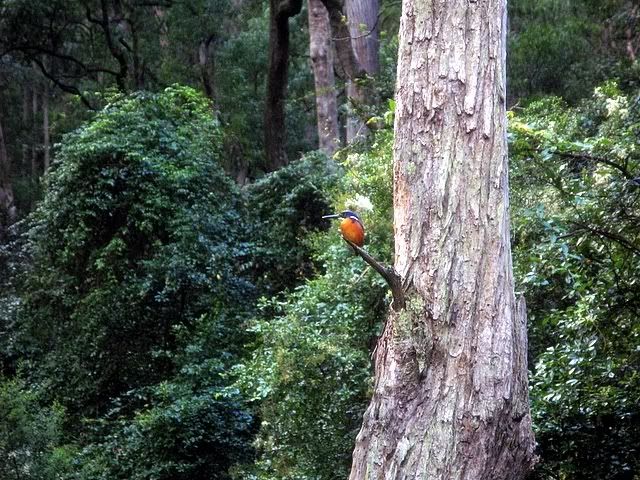 Landbased Options:



The Dam itself is quite large with a catchment of over 5750 square kilometers. This basically means many miles of banks and bays to explore, with typical scrub and lantana obstacles. Down at the wall some well worn paths exist to the right of the boat ramp, popular with bushwalkers and visitors alike.

Fishing to left of the ramp towards the wall is also popular with day visitors, angling below the wall is banned 300m downstream from the weir face but permitted further down the beaten track. Be sure to wear appropriate footwear to avoid a slip and dip, all areas above and below the wall are subject to bank erosion, deviating water lines and slippery rocks.

The Kangaroo River upstream from the Bendeela campground has abundant bank access, perfectly suited to landbased angling. It's a popular destination for fishing families and offers a great alternative from fishing at the wall (Toilets/disabled toilets and drinking water on tap). While the SCA locks access gates further into the campgrounds to restrict vehicles, walking in on foot and carrying camping and fishing gear upstream is allowed.

By trekking into this pretty and productive river shoreline, which can be far from the maddening crowd, you can set up camp right at the river's edge. Other landbased options include wetting a line at Beehive Point (Via car or watercraft) or Acacia Flat (Walk in or Watercraft only).







Bronze Battlers:



From late October to early April the Dams water begins to warm, the river flows seem to settle and in turn the water levels stabilise. Australian Bass begin patrolling the edges of the shallower water, providing some heart pounding action for both Canoe/Kayak and landbased anglers. Make no mistake; an Australian Bass of size will pull your arms off. The tugging power to weight ratio is the one of strongest of all freshwater species, even an average sized Tallowa Bass provides quality sportfishing on finesse tackle.

Many of the fish you will come across will be around the sub 30cm mark, indicating a sustaining fishery bounded by a healthy environment. Some real horses have been recorded over the years so keep your wits about you and always be prepared for a fierce battle.

Tallow Bass are often targeted in the shallow bays with underhanging foliage, but the big bruisers still tend to school in and around deep water structure. Shallow water encounters are often in shadowed foliage areas, where the sun is hidden and the bank is tight. It's here where smaller Bass feel the safest and have a higher access to a possible food source.

Generally though Bass are ambush predators that habit areas throughout the entire water column with Insects, worms, grubs, freshwater shrimp, Gambusia and Tadpoles making up their varied diet.

Surface lures imitate a fleeing quarry ('Fast food'), disturbing the topwater has accounted for countless Bass here over the years. Some great options for surface luring Tallowa from a kayak, using a walk the dog technique in bays include Ecogear PX45, Smith Towadi, Luck Craft Sammy or something similar to the new 3B crank Scumdog.

Rather than sitting in the deeper water casting straight at the trees or submerged structure, try to position yourself closer to the bank which will allow you to cast and retreive accross the face of the structure which will give your lure more time in the strikezone. When searching open water areas from a bank, try a bubble line producing Kokoda 'bat', Kokoda 'Bugga chug', Arbogast 'Jitterbug' to help track your previous casts.

Apart from fishing the surface, Tallowa Bass love a well presented soft plastics. They're very functional, especially given the ability to rig them up weedless/snag proof using worm style hooks. Creature style baits will always work well (Imitating various bugs and crustaceans), in Tallowa's case the more appendages attached the better. My favourite style soft plastics include Berkley Gulp 2" Baby Shrimp, Berkley Gulp 3" Craw and the Berkley Powerbait 2" Power Hawg.

You rarely need to go heavier than a 1/8oz jighead at Tallowa with 1/16oz or 1/12oz my preferred weight for soft plastic lures. Betts spin blades, pony heads or similar can be added/used additional flash and vibration. If you're fishing the weedy edges only, then consider a slow sinking jighead like a Nitro Finesse Torpedo. The hidden weight system, accompanied with a sink rate of around 2.5" a second will keep your offering wafting down a little longer, appearing more natural in the process.

There's also something to be said about using hard bodied lures, especially blades and lipless crankbaits (LCB). A slow rolled skinny minnow profile works well but Bass love lures with a bit of body to them. Using either styles try casting and retrieving across the face of structure, using a slow roll whilst imparting plenty of pauses along the way. In the past I have had success on 3b Crank 'Fat Dogs' (Fat), Frenzy 'Flickershads' (Skinny), Lively Lures 'Mini Micro Mullet' (Skinny), Halco 'Scorpion' (Skinny), tiny River2Sea 'Baby Crank' (Fat) and Jackall 'Chubby/Cherry' (Fat), Frenzy 'Sinking Rattler' (LCB), Jackall 'TN50/TN60' (LCB) and Cultiva 'Mirra Vibe' (LCB).

When it comes to lure patterns try focussing on factors like water clarity and sunlight. A natural pattern like 'Perch' or 'Rainbow Trout' will work well on bright days in clear water, while flashy markings such as 'Firetiger' and 'Ghost Wakasagi' dominate in overcast and washed out bays.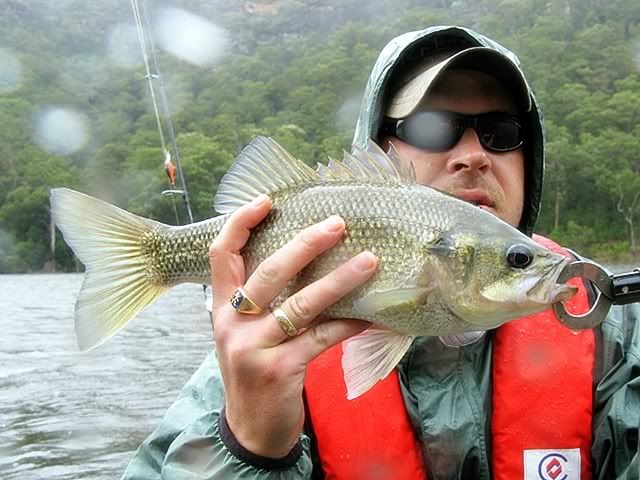 Chop and Change:



There is no real hard or fast rule when it comes to targeting fish in Tallowa, many other tactics will and do work. Bait is a real option here and worth considering, especially when fishing from a bank. Quality Scrub Worms, Freshwater Shrimp, Black Crickets, Bardi Grubs, Wood Grubs and even the humble Tiger Worms all have their place. Fished under a float, this is a great way of getting a presentation out into deeper water, especially if the wind is behind you. This blown presentation is also quite effective from a kayak, allowing the opportunity to fine tune your own position on the water rather than the line or baits.

While bait fishing can be extremely effective it can also be a bit of a blight, especially if you're planning on releasing your catch and don't squash your hooks barbs. Since Bass can swallow bait deeper than the average lure, a crimped hook tends to leave a smaller hole in soft tissue, rather than a tear. Meaning there is less tissue damage to the fish, and therefore a greater prospect of survival (Very handy for releasing undersized Bass).

Tallowa is a big dam with two large river arms to explore via kayak, both involve hours of paddling/pedalling. Trolling lures to and from points is a productive way to cover ground, especially if you pick your spot on the horizon and maintain a speed conducive enough to work your lure properly. Hugging the banks and moving in and out of coves around fallen trees is one option, another is sitting a few metres out from the bank and trolling parallel.

Unlike the cast and retrieve natural colours, the flashy, brighter selections seem to work better with deeper divers, pulling Bass interest from all spectrums of the water column, Some great results have come from bouncing lures below vertical rock faces, especially bright bleeding mullet styled markings (Red stripes over silver body).

Lures like small Spinnerbaits really come into their own, especially when you're looking to search water and ad a bit of noise. With a high snag resistance they make excellent surveying tools, great for when the bites a little tough. As you move further into the Shoalhaven Gorge the rocky walls extend skyward, often replicating similar features underwater. Bumping obstacles as it falls creates enough disturbances to encourage Bass to investigate. The constant throb of a slow rolled retrieve seals the deal, slow enough to just get the blades just ticking over.

When it comes to Spinnerbait sizing the same rules apply to Chatterbaits, Blades and even Buzzbaits, just as they do for jigheads selection. My favourite is the Jazz 1/8oz Mini tandem, purple and white skirt with gold blades. The single willow blade helps cut through vegetation while the other Colorado blade tends to slow the pace.

Fly fishing is another crafty way of fooling a Bass, waving a long wand around during the height of summer's insect activity. Last summer some members of the Canberra Anglers Association visited the upper reaches of the Dam towards the Bendeela pumping station, while the Bass we caught weren't massive some were produced on fly.

Crazy Charlies, Bass Vampires, Purple Clousers, Hammerheads, Bass Bunnies and shrimp patterns were used, fished on an intermediate or sinking line with small, sharp strips. If visiting during the peak of summer try dry flies like Grasshopper, Moth and Cicada imitations, drifted on a floating line at dawn or dusk. Bass love nothing more than spying a tasty morsel flailing around on the surface film.

Tallowa Dam is known for its population of Australian Bass and rare and endangered native fish, it's also home to an unwelcome invader. Carp are a bit of a scourge hear and can be found milling round the edges, often sighted bumping drowned foliage in hope of dislodging a meal. Most of these destructors are over a couple of kilos and are found throughout the Dam, they are more than happy to take a lure. Carp pull hard when hooked, either rising to thrash around on the surface or slugging it out deep below the yak.

There's no real knack to tangling one, be it trolling, cast and retrieve or even hopping Spinnerbaits, Carp have a funny knack of finishing up on the end of your line. While it's not illegal to return Carp to NSW waterways it's definitely discouraged. If you plan on dispatching Carp from Tallowa make sure you dispose of your catch appropriately, far away from the water's edge.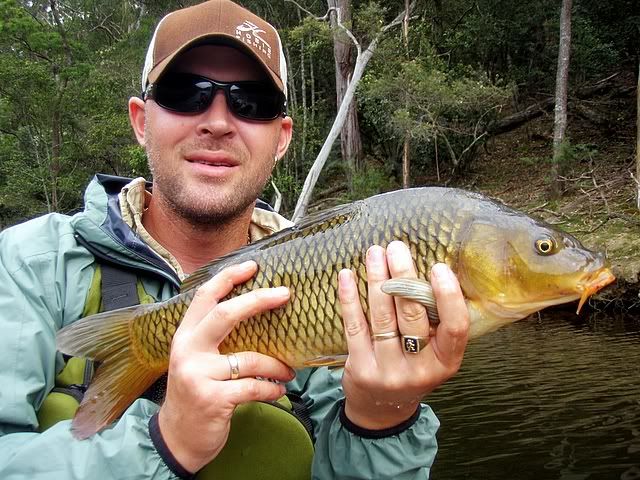 Tallowa Tourism:



Famous for its camping and picnic grounds scattered around at Bendeela, Barrengarry and the Tallowa Dam wall, the Kangaroo Valley offers many styles of accommodation. From Bed & Breakfasts, Retreats, Lodges, Farm stays down to the traditional stylings of the Glenmack Caravan Park / Kangaroo Valley Tourist Park. Tallowa Dam is more than just a special place.

It abounds in dense green vegetation, likened to subtropical rainforests much further north. Associated with Morton National Park, one of the largest parks in NSW, tourists and locals are spoilt for choice. From bush walks and river based activities to scenic surrounding drives and an abundant wildlife.

Fishing Tallowa Dam can quite easily be a day trip option; you could even bring the entire family. There is nothing better than keeping the wife and kids entertained in Kangaroo Valley while you duck off for a bit of fishing, especially when the chance of tangling with a ripper Bass is so high.

There is plenty to see and do with historical features like the Hampden Bridge, Australia's oldest and most photographed suspension bridge on show. Combine this with the valley views, museums, galleries, cafes, restaurants and pubs and you have the perfect recipe for your next Sunday drive.

From Sydney, follow the Hume Highway [F5] south towards Goulburn and take the Mittagong to Bowral turnoff. Take Nowra Road towards Kangaroo Valley. Turn right at Bendeela Road, just before Hampden Bridge, to Bendeela Picnic Area. For Tallowa Dam, continue across Hampden Bridge and turn right down Mt Scanzi Road.