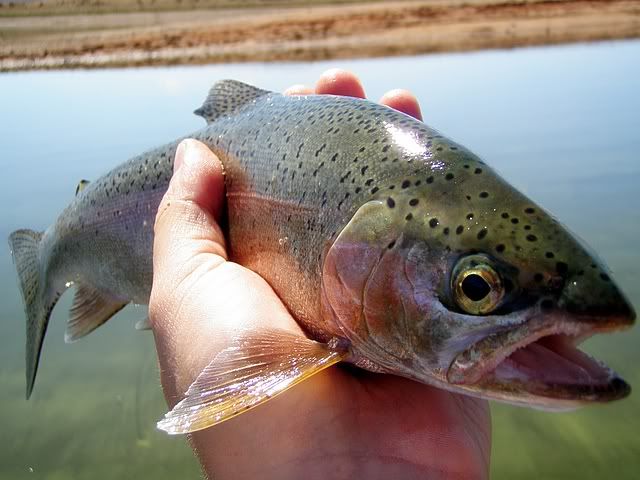 A well famous spot before it was recently neglected,
Greeted by aged signs indacating days of old I was pleasantly suprised to see some big Trout rising all over the place, down close to the old boat ramp. Unfortunately for me I arrived about an hour too late and once the sun rose above rises were few and far between. Lots of bait fish of some description, insects galore and a lone Yabby carcass gave me confidence to troll up a storm. I was fishing solo as invitations were ignored or politely refused, for those that dont know its about 1hr 20 minutes drive from Canberra ( Thats with or without a Rebels / Police escort on the way home ).
A famed venue that still holds a few big bruisers ( According to the sounder ), tried many different lures but they only wanted the Min Min shown. Pretty sure if I managed to arrive earlier the J7 Rapala / Rebel jointed would have taken its toll, Pescado's tip off proved popular with 3 of the 4 fish landed amongst the weed beds ( Below 3m, bays and edges ). It really is a joy to fish but it seems to be open to all elements, like all Trout waters seem to be. The Daiwa Heartland S Trout Special 1-3kg really took the sting out of them, even at 35cm - 40cm they were belting the crap out of the pure Minnie.
Something about fishing a new location that makes it so satisfying, not often I drive less than 2hrs to go fishing and with some family appearances scheduled for the late afternoon it was an easy day trip. Would be a good place to fish overnight but it really is quite featureless, couple of big boulders and a maximum depth of 18m in one of the bays. The arms were quite shallow but early on would fire, this would be a great place to fly fish from the bank due to lack of trees or bankside vegetation. All up managed 4 Rainbow Trout and lost about the same... Next time I will bring a gang!
Word of warning though, maximum Blue Green Algae content.